The Story Begins...

Oh yeah!
The rockstar princess (or POPstar?) will be making her way to our shores this August.


*WTF? Adli Syahril blogging about Avril?*
Hey... I don't discriminate music!
I like what I like, so what?
Who is
Avril Lavigne
?
Hahahha! She don't need any introduction! If you don't know her, that means you don't know music! Pity you, I must say.
I was a big fan of her when I was in Form 3 (back in 2002). I even memorized every single track in the "
Let Go
" album. It was the most amazing CD I had in those days. Before heading to school, I played the CD every morning. Of course, I did search for the acoustic version of her songs to complete my collection of Avril Lavigne. I admit! I was a groupie. Plus, she's hot!
The angry-girl-next-door will be performing in town soon. Here are the details: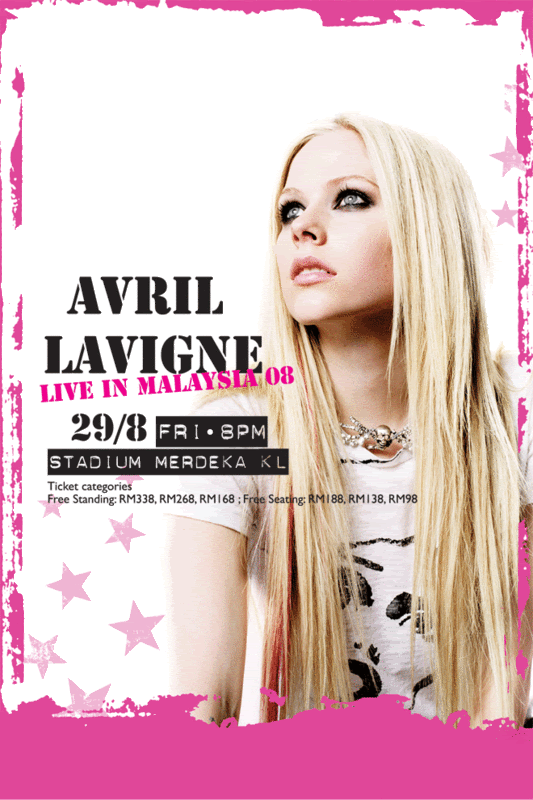 Avril Lavigne Live in Malaysia 2008
Venue: Stadium Merdeka, Kuala Lumpur
Date: 29th August 2008 (Friday)
Time: 8pm till end
Ticket prices: (Free Standing) RM338, RM268, RM168
(Free Seating) RM188, RM138, RM98
Any takers for this concert?
For your listening pleasure, do listen to her albums before the concert!
There are so many singles that she might going to perform! hehehe...
Well, I don't know what's on her set list but let's just hope she'll sing all her hit songs.
"
Let Go
" is her first album with few singles such as "
Complicated
", "
Sk8er Boi
", "
I'm With You
" and "
Losing Grip
". 2 years later, she came up with "
Under My Skin
" album which she sounded very mature, in my opinion. Same as the first album, she had 4 singles out of it which was "
Nobody's Home
", "
My Happy Ending
", "
Don't Tell Me
" and "
He Wasn't
".
Lastly of course, her recent album. Well, not that recent. It was last year, i supposed, with the multi-language track, "
Girlfriend
". The album was called "
The Best Damn Thing
". After the track "
Girlfriend
", 2 more tracks called "
When You're Gone
" and "
Hot
" became hit.
So?
What to expect from her concert?
Do I need to answer that since we all know how to sing along to 11 of her songs???!!!
She can sing live!
I love her singing the cover of Metallica's "
Fuel
". :D
For more info of the event, browse through
Axcess Tickets Sdn Bhd
.
Watch this funny video of Avril Lavigne.
Trivia: According to Canadian Business Magazine, she was ranked at number 7 as the most powerful Canadian in Hollywood in the year 2006.
Adli Syahril says: I'm trying my best to collect some cash for this event even if I have to go alone.
Source:
Axcess
,
Galaxy Events
The End