0
The Story Begins...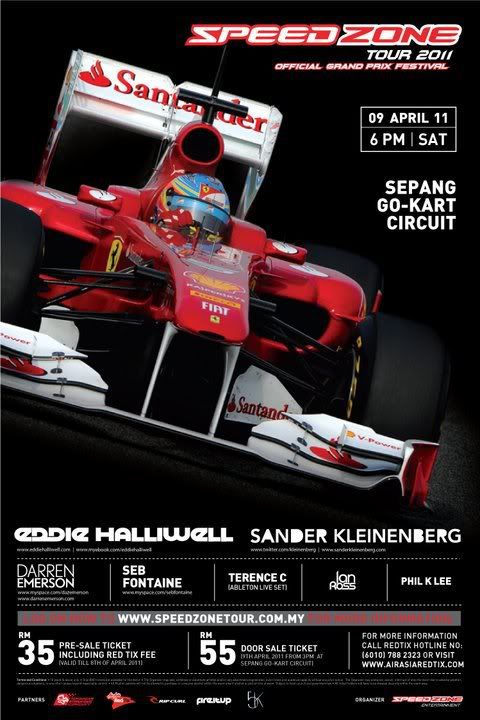 It's the moment that you guys have been waiting for! The biggest rave party event with super-speed F1 cars and musical mayhem, Speedzone Tour returns with technical wizard Eddie Halliwell, Sander Kleinenberg, Darren Emerson and Seb Fontaine, alongside our local DJ heroes Terence C, Ian Ross and Phil K Lee.

Read more »
0
The Story Begins...



Hailed by the LA Times and E! Entertainment as one of the most talented and sought after DJ's in the city, Gina Star became the face of LA's most exclusive nightclubs. Gina gained #10 spot in the Beatport Top 100 chart and #1 progressive house chart for her release 'This Is Hollywood', and was featured and supported by prominent DJs like Tiesto, David Guetta, Judge Jules and Pete Tong. Get down on the dancefloor and experience her uplifting big room set!

Read more »
0
The Story Begins...



The biggest 2-day open air music celebration will be happening at the iconic Twin Towers of KLCC in conjunction with the Petronas Malaysian Grand Prix. Witness a fusion of electrifying and impressive performances from Yuna, The Azenders, Bunkface and Hoobastank on day 1, Joe Flizzow, Mizz Nina, Colby O'Donis and The Earth, Wind And Fire Experience featuring the legendary Al McKay on day 2. Exclusive 4000 fan-zone passes will be given away at the concert.

Read more »
0
The Story Begins...



Don't mess with these chicks! The all-girl electroclash group Chicks On Speed will show you how to rock. They started as a multidisciplinary art group who are enthusiasts about punk-inspired DIY ethic to performance art, collage graphics and home-made fashion. Don't be surprised if you see them in cheap and recycle material costumes on stage. Party to tunes like 'We Don't Play Guitars', cover of Tom Tom Club's 'Wordy Rappinghood' and 'Glamour Girl', they will guarantee you a good time.
Read more »