The Story Begins...


*UPDATED AS OF 20th MAY*
More DJ acts are added to the bill!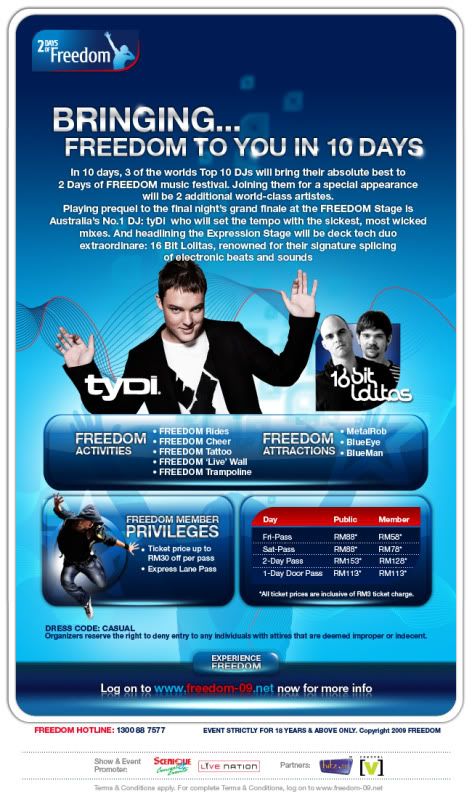 tyDi
and
16 Bit Lolitas
will share the stage with Ferry Corsten, Above & Beyond and Markus Schulz.
Good deal!
*UPDATED AS OF 6th MAY*
Hello!
Finally, the event details are out! I know that most of party animals out there can't wait to feel the Twice in a Blue Moon experience.
29th and 30th May is the date! Mark it because it's going to be one hell of a great trance pleasure!
Check out the details below
What?
2 Days of Freedom
Where?
A'Famosa Resort, Melaka (Malaysia)
When?
29th and 30th May 2009 (Friday & Saturday)
Who?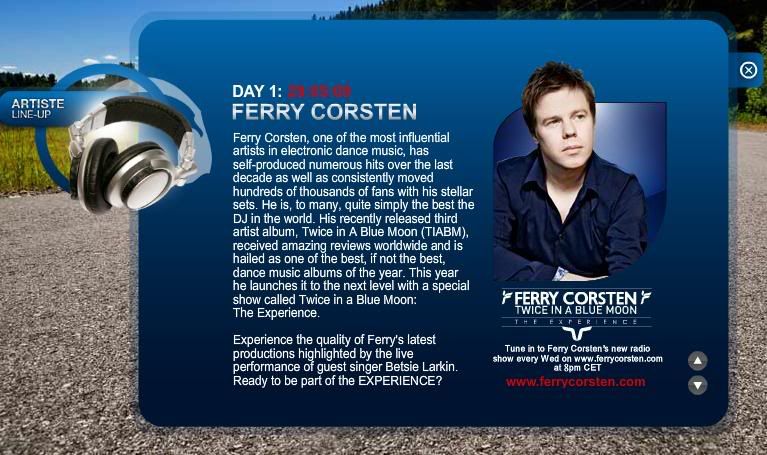 Ferry Corsten
. As stated in the website, Betsie Larkin will join him for vocal. Now that is what I call Twice in a Blue Moon experience!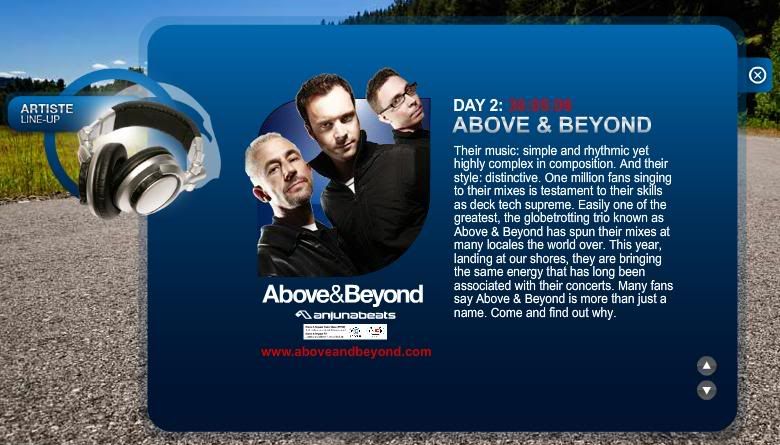 Above & Beyond
is in the bill for the second day. Now everyone can cheer! At last, they're here for an outdoor.
Markus Schulz
is also featured for this event. This is a good news. :)
UPDATED!
TyDi and 16 Bit Lolitas will be joining them too!
Other acts: Effen, Benny Teh, DJ Kurt (Clash The Disco Kids) & Has.
How?
*taken from
Axcess
Ticketing website
Why?
The world of FREEDOM lands in Malaysia on May 29th and 30th 2009 with 2 Days of FREEDOM, a spectacular 2-day music festival held at the A'Famosa Resort near Melaka. Over two nights, 2 Days of FREEDOM will feature unforgettable live and DJ sets from some of the most exciting names in the electronic music scene, including Ferry Corsten's Twice in a Blue Moon live show (for the first time in Asia), Above & Beyond and Markus Schulz.
Located within the lush greenery of the 1,300-acres of the A'Famosa Resort in the heart of the Melaka countryside, 2 Days of FREEDOM is the perfect escape from the stresses and strains of city life. Unwind and share experiences with friends and like-minded folks as you explore and enjoy the thrilling and chilling sounds of the best in electronica at this purpose-built all-weather site with ample onsite parking and accommodation facilities.
Hosted by Scenique Productions & Live Nation Asia, 2 Days of FREEDOM features up-to-the-minute music arenas with cutting edge sound reproduction, mood enhancing multi-colour laser displays and never-before-seen big screen visual content, as well as chill-out zones, food and live guest performers like the acclaimed Metalrob.
Instilling a sense of discovery and exploration, the festival site has been comprehensively landscaped and greened to help you maintain a FREEDOM state of mind. From Cafés to Cabanas, a feeling of calm flows from one part of the festival site to another, complemented by low-key seating areas and chill-out centres that allow you to bring some peace to your body and mind before heading back to the arms-in-the-air arena action. And of course, a 2 Days of FREEDOM premium offering, our exclusive and privately served Platinum and Gold Cabanas will also be available.
Dominating the proceedings is the Freedom Stage . A 2 Days of FREEDOM trademark, this state-of-the-art stage set up is home to the massive video screens and laser lighting that have made the festival such a talking point. It's here that Above & Beyond, Markus Schulz and Ferry Corsten will all deliver the music that has made them justly famous. And for fans of Ferry Corsten it should be an unmissable set combining the sheer spectacle of the 2 Days of Freedom set-up with the Asian debut of the acclaimed Twice in a Blue Moon live show.
At the Expression Stage you can get down to a different musical landscape, where the raw beats and slinky sounds of house and eclectic electronica will be receiving the big room treatment across the weekend. But whether you're listening to the latest upfront sounds or just hanging with your friends, the vibe at 2 Days of Freedom is all casual.
And keeping it casual, both stages feature an abundance of tables and seating to keep you comfortable throughout the weekend. A 2 Days of FREEDOM signature, the Freedom Pavilion has a terraced balcony and offers a 360 degree view of the whole festival ground. Or get away from it all at the Freedom Lounge and lose yourself for a while with some of our multi-sensory activities.
And when you need to rediscover yourself, get back to the elements and watch the stars at chill-out area with its mixture of open-sided lounge pavilions, backlit café style al-fresco seating and landscaped garden-seating areas. Or sit down with friends over food at the vibrant café or any of the casually-themed dining outlets before heading back into the action of the main arenas.
But it's not just the production of 2 Days of FREEDOM that sets it apart, it's also the high-grade talent the festival attracts. Leading Friday night is a live set from Ferry Corsten, a familiar FREEDOM face, who brings his Twice in a Blue Moon: The Experience live set to Malaysia and Asia for the first time. One of the world's most popular and respected trance DJs, Corsten has featured in the top ten of DJ Magazine's Top 100 DJs poll for the last five years.
In October he released Twice in a Blue Moon, his second artist album, to huge critical and commercial success. That release will provide the bedrock of his amazing 2 Days of FREEDOM show. Joined by vocalist Betsie Larkin, Corsten will be playing a mixture of the latest electronic floor-fillers alongside specially reworked and re-edited versions of tracks from TIABM at the festival.
Joining him on Friday night will be a DJ who stands as the DJ Mag current #8. After exploding onto the mainstream scene in 2007, Markus Schulz has become one of the most exciting and consistent performers in the business. At 2 Days of FREEDOM you can expect to feel the boundless energy that has turned his weekly radio show Global DJ Broadcast into one of the trance scene's most important shows, and experience the skill that has seen him rewarded with a summer residency at Ibiza superclub Amnesia.
Headlining Saturday night is electronic supergroup Above & Beyond. The trio of Jono, Tony and Paavo has dominated the 21st Century trance scene like no other. Their Anjunabeats labels is the go-to track selector for DJs as diverse as James Zabiela and Eric Prydz, while their melodic goa-influenced tracks and remixes have seen them cross from the electronica scene to the mainstream charts.
It also explains their current position at #4 on the DJ Mag Top 100 DJs Poll. From Europe to Australasia, the only constant in their touring itinerary are the thousands of hand-in-the air fans that characterize their every performance. As an outfit that prides itself on the way it nurtures and cultivates its audience, Above & Beyond's debut at 2 Days of FREEDOM will be an unmissable mixture of heaving beats and rock 'n roll attitude.
For FREEDOM members, 2 Days of FREEDOM will certainly be an experience and a weekend to remember with abundant privileges. Members enjoy up to RM30 off ticket prices before the festival dates. For more information, click through to www.freedom-09.net and log on or register.
At the site you'll also find information on a host of other member benefits, including the FREEDOM Express Lane Pass, your ticket to priority clearance into the 2 Days of FREEDOM festival site. And while you're there try out the FREEDOM Mixer and unleash the mixmaster inside you. And the infamous Blue Man dance returns, so liberate yourself: learn the steps and join the world of FREEDOM.
2 Days of FREEDOM. A celebration of unique individuality, shared experiences and boundless energy. Make the most of your FREEDOM.
For more updates, log on to
Freedom
.
Info Source:
Freedom
Photo Source:
Freedom
Related post:
ADVANCE WARNING: 2 Days of Freedom '09 (29 & 30/5/2009)
The End