The Story Begins...

This is so cool. SpeedZone Tour is back in vengeance with two stages and tons of international acts.
Big names like Paul Oakenfold, Judge Jules, Tall Paul and Nic Fanciulli are gonna destroy the decks at KL Tower in this F1 season.

Are you up for this? Check this out.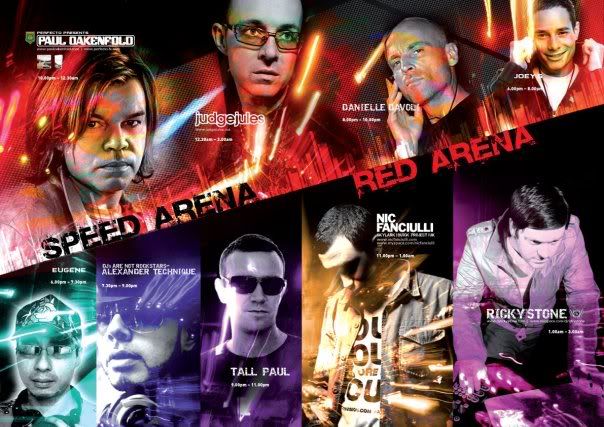 What?
SpeedZone Tour 2009

When?
4th April 2009

Where?
KL Tower

Who?
Speed Arena
Paul Oakenfold
Judge Jules
Danielle Davoli
Joey G

Red Arena
Ricky Stone
Nic Fanciulli
Tall Paul
DJs Are Not Rockstars - Alexander Technique
Eugene

How?
RM48 (Pre-sale) + 1 drink
at all Axcess counters

RM68 (door sale) + 1 drink
at the event

Why?
With a revamped layout to house two supercharged music zones, namely the Speed Arena and Red Arena, SpeedZone Tour 2009 will be presenting nine DJs in one night, including, the legendary icon and Grammy Nominee, Paul Oakenfold; BBC Radio's #1, Judge Jules; Asia's highest ranking and prince of deep progressive electronic tunes, Ricky Stone; 1998 "Muzik" DJ of the Year and hard-edge-house anthem maestro, Tall Paul; talented yet versatile captor of deep tech and dark melodic grooves, Nic Fanciulli; creatively mash up artist and Superstar Princess collaborator, Alexander Technique a.k.a DJs are not Rockstars; pioneer of Italian House sound, Daniele Davoli; and last but not least, our local talents Joey G, and Eugene.

With such impressive DJs line-up and great music offerings in store, one can expect SpeedZone Tour 2009 to be Kuala Lumpur's largest outdoor Malaysian Grand Prix dance festival this season, to celebrate the race excitement with over 8,000 of SpeedZone revellers at full speed on the 4th April 09, Saturday, at Menara Kuala Lumpur (KL Tower), from 6pm onwards

The tickets are priced at RM48 (pre-sale) and RM68 (door sale), inclusive of one non-alcoholic beverage. The number of pre-sale tickets available is limited, so act fast to avoid disappointment. Log to www.axcess.com.my or visit your nearest Ticket Axcess outlet now for more information.

For more information, log on to SpeedZone Tour 2009 official website

Photo Source: Facebook event
Info Source: Facebook event

Adli Syahril says: I clicked at "NOT ATTENDING". Damn. I had to say pass to almost every event. No money.

The End