The Story Begins...

FOR THE FIRST TIME, the world's #1 multi-award winning hard dance act, Showtek, will be invading Kuala Lumpur. Are you surprised? Even I couldn't believe my eyes at first but yeah, Showtek is coming to Malaysia ONLY. Cough, i don't see Singapore in the tour date, cough!

Back in 2005, I was addicted to this kind of music. Oh you should see the scene back in the days. Kids were stomping the floor in their phat pants. Ermm... I don't think I need to give you an introduction on the pants, yeah?

Sorry I digress.

Anyway, I believe a lot of party peeps out there has been anticipating for this. The duo has produced more than 20 DJ mix albums to date and recently released their third studio album titled Analogue Players in the Digital World.

For the first time a Hardstyle act sold out a solo event in Los Angeles and the first ever Hardstyle DJ that received the honor to deliver an Essential Mix on BBC Radio 1 for millions of listeners. They will definitely take you on a crazy ride!

Details!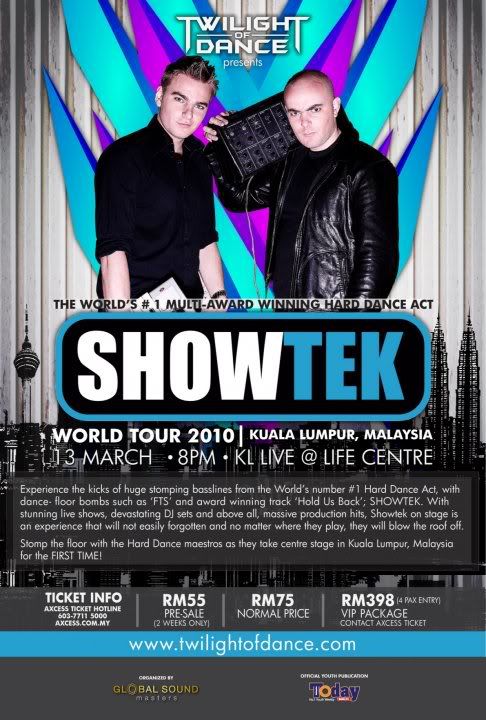 What?
Twilight of Dance presents Showtek World Tour 2010 Live in Kuala Lumpur

When?
13th March 2010 (Saturday)

Who?
Showtek
opening by Bass Agents

Where?
KL Live @ Life Centre

How?
Tickets are available at Axcess outlets
RM55 (until March 9)
RM75 (from March 10)

Why?
From the Producer of Music Conference Asia (M.C. ASIA), Global Sound Masters brings you yet another highly anticipated event of the year - Showtek World Tour 2010!

The World's #1 multi-award winning Hard Dance Act, Showtek will be performing in Kuala Lumpur, Malaysia for the FIRST time as a part of their "Analogue Players in a Digital World Tour 09/10". Showtek will unite Dance music lovers and enthusiasts on March 13, 2010 at KL Live event hall, Jalan Sultan Ismail.

With stunning live shows, devastating DJ sets and above all, massive production hits, Showtek on stage is an experience that will not easily forgotten and no matter where they play, they will blow the roof off. Stomp the floor with the Hard Dance maestros as they take centre stage in Kuala Lumpur, Malaysia for the FIRST TIME!

For more information, log on to www.twilightofdance.com

Check out the official Facebook event page here.

Are you ready for world domination?

The End