The Story Begins...

Hi everyone!
Adli Syahril made a last minute plan again last night for attending the Urbanscapes' pre-party at Zouk.



I admit.
I was a bit tired for the 4 hours party at Maison the night before.
Hey, it was Alex MORPH! Whaddyaexpect?

But then after thinking of getting the free Urbanscapes ticket, me, aisyah & anis planned to go to the party. Heheheh.



And of course, my favorite duo, LAPSAP spun some good shit! Same goes with DJ Inquisitive.

It was f**king good! Dancing and jumping to musics from Justice, Digitalism, Simian Mobile Disco and etc. Hahahah! I love electro!

Thanks to Blink for the free ticket to Urbanscapes!



The party blogger, Coolerclubbers team was there too! Here's a photo of me and Coolerfuzz! hehehe.



So, guys! Head down to Urbanscapes 2008 this Saturday at KLPAC, Sentul!
It's an all-day creative art festival from all the music, arts, film, theater, and shopping.

I did went to the event once in 2004 (Form 5) and it was awesome but the event got shut down by 12am because the next day was Raya Haji.

What's there at Urbanscapes?

1. The XPax Lawn Stage


My choice: Estrella, Bittersweet & TWKUA.

2. The XPAX Box


My choice: The Otherside Orchestra, Komplot, Goldfish & T-Bone presents Spaceship, DJ Van & Bass Agents

3. Acoustic Livehouse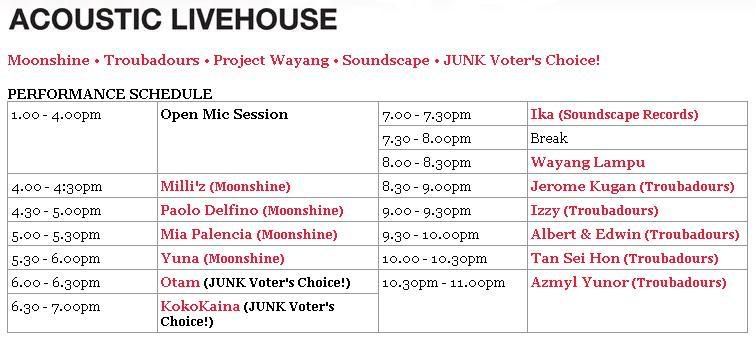 My choice: Yuna & Mia Palencia!

4. The Lakeside



My choice: LAPSAP! TAG!

Besides 4 stages of music, you can also enjoy our own local indie movies such as Flower in the Pocket, Ciplak, 10 Tahun Sebelum Merdeka, My Indie Rock Darling and etc...

Plus, open your eyes and mind at their Gallery section. Lastly, of course, THE MARKETPLACE! More than 70 stalls. I'm so going to the Kraftgrafik X Lapsap's junkyard! hahaha.

Where to get the ticket?

Pre-sale tickets for Urbanscapes are now available at RM25!!

Buy the pre-sale tickets for Urbanscapes to get an RM10 discount off the regular price*! You can get them at:

KLPAC box-office (03-4047 9000)

The Actors Studio box-office @ Bangsar Shopping Centre (03-2094 9400)
Doorsale price is RM35 but if you are an XPax user, just flash your phone and get RM10 discount. Only applicable for doorsale price.
How to get to Urbanscapes? easy! Just read the map! Can't read? Click it for a full view.
Easy?
hehehe...
Let's watch the video promo of Urbanscapes done by Shermen Mukhtar.
Urbanscapes 2008
from
Shermen Mukhtar
on
Vimeo
.
So what are you waiting for? Grab your tickets now!
For more info, log on to www.urbanscapes.com.my
Adli Syahril says: Come what may! I'll escape from my parents for Urbanscapes 2008!
Photo Source:
my own, Zouk's website & Urbanscapes' website
Info Source:
Urbanscapes
The End