The Story Begins...

This is an advance warning!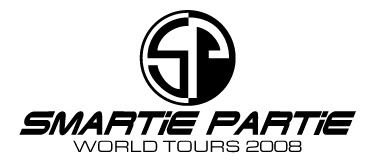 Smartie Partie will land in Malaysia!

SMARTIE PARTIE is UK's longest running and most successful dance promotion. In the last 15 years, SP has toured to over 25 countries with regular gigs to Ibiza (seasonal), United Arab Emirates, Mexico, Australia & throughout Europe, often headlining huge festivals. Separate mind-boggling gigs include Sw4 (25,000 people), Knebworth (55,000 people), Love Parade (1,000,000 people) and Grande Carnival Tenerife (50,000 people).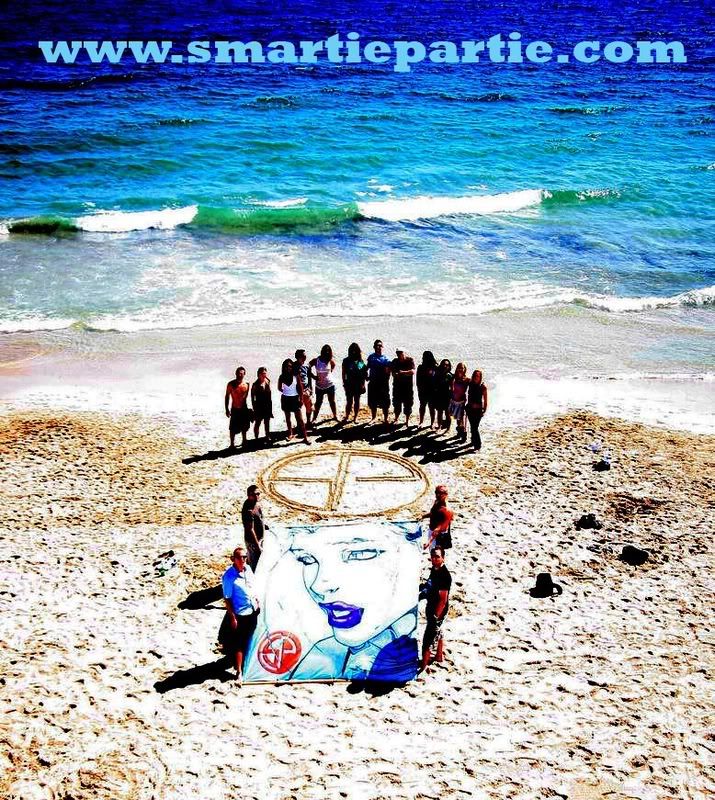 This year Malaysia will witness and feel the power vibes of SMARTIE PARTIE. Trace Harris, the founder and percussionist of Smartie Partie, will be here with 4 of SP's family top DJs: DJ Alex Miles, DJ Lisa German, DJ Matty Wells and DJ Ramone and SP Dancers: Emma, Karleen, Jodie and Kirstie.

Get ready for 2 nights of serious partying!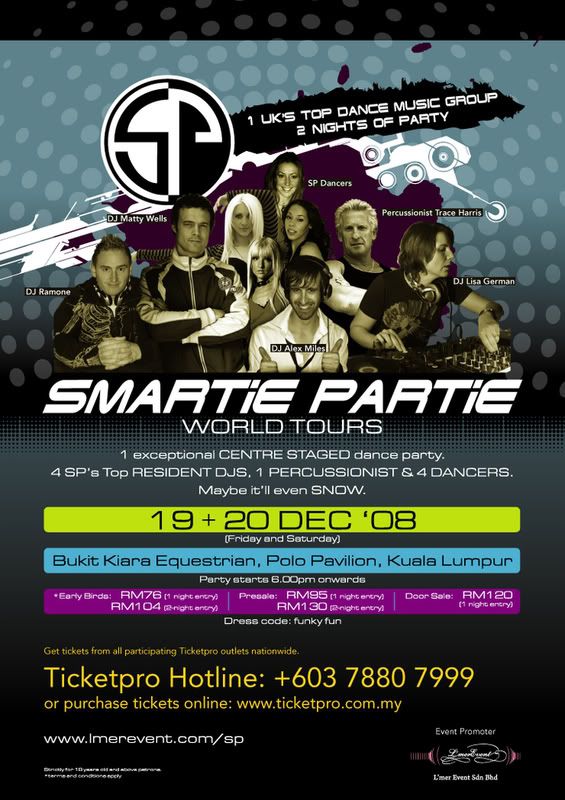 What:
Smartie Partie World Tours 2008

Where:
Bukit Kiara Equestrian, Polo Pavilion, Kuala Lumpur

When:
19th & 20th December 2008 (Friday & Saturday)

Who:
Trace Harris
Alex Miles
Lisa German
Matty Wells
Ramone
... and more Smartie Partie Dancers!

How:
Early Bird ticket price (1st till 20th November) - RM 76 (one day) / RM 104 (both days)
Pre-Sale ticket price (21st November till 18th December) - RM 95 (one day) / RM 130 (both days)
Door sale on the event day - RM120 (one day)
check out Ticketpro for more details

Why:
According to the Moderator of MASH, Chris Yip who attended the press conference mentioned in the forum, "this Smartie Partie is not a rave party like there's only one DJ spinning and no one else helping, this is gonna be like a concert, non-stop entertainment with the SP family, 4 DJs spinning all genre of house (lots of tech house), the ever famous percussionist Trace Harris himself, and 4 sexy SP dancers to hype up the stage!! Not to forget the warm up djs DJ G-Mix and Sashi whom residents at Sunshine and Aloha. I think its gonna be worth it attending this gig, part of their world tour. Its the experience that counts! "

Check out the event website at http://www.lmerevent.com/sp/

Source: Photos from MASH, info from MASH & Ticketpro website

Adli Syahril says: Holy mother of cow! Sounds like a good one to me... Smartie Partie at Kiara VS Marcus Schossow at Maison VS Massive Worldwide at PWTC.... HELP!

The End