The Story Begins...

When I first saw this, I said "WHOA!"
It's A-Trak, man! He is one of the leading electro producer/DJ and he will be down in KL for another series of Red Sessions party (who brought us Paul van Dyk, Armin van Buuren at Zouk).

He has just recently released his Infinity + 1 mix CD and launched his Fabriclive CD too. Let's thank god that Malaysia is included for his Infinity + 1 Tour! You know what to do. Just hear the bass and say whoa!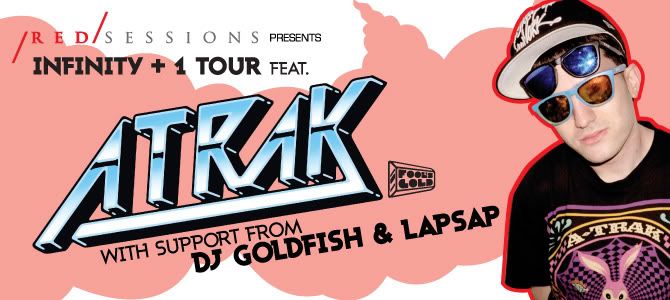 What?
RED SESSIONS presents Infinity + 1 Tour feat. A-TRAK

When?
15th May 2009

Where?
Zouk KL

Who?
A-Trak
with support from DJ Goldfish & LapSap

How?
TICKET ENTRY (Access Zouk & Barsonic)
RM28 Ladies / RM38 Men (inc. 1 drink)

Why?
Dubbed "The MAN to call to make people dance", A-Trak is quite literally one of the most in-demand DJs in the world. Not only a world champion DJ who is also Kanye West's official DJ, A-Trak is now world famous for being one of the leadings proponents of the new emerging sound. He is consistently sharing and headlining bills along with the likes of Steve Aoki, DJ Mehdi (Ed Banger) and Diplo. Never mind the plaudit… Just ask yourself… ARE YOU READY TO PARTY?

Adli Syahril says: Another big party hit on the next night! Will update soon

The End