The Story Begins...

Lemme ask you kids out there...
Are you craving for Trance music?

Check this out!
After the month of Ramadhan, Maison is bringing you Trancescapade Asia Tour 2008 featuring Altuna and Osvaldo Nugroho on the 3rd of October 2008. They are Indonesian DJs.

I'm pretty sure they are pretty good on those decks.

They are one of the DJs who has their own online radio show at Sense.FM
Wondering how they sound like? Log on to Sense.FM and listen to them on every 2nd and 4th Sunday of the month called "Trancescapade".

Here are the detail of the event.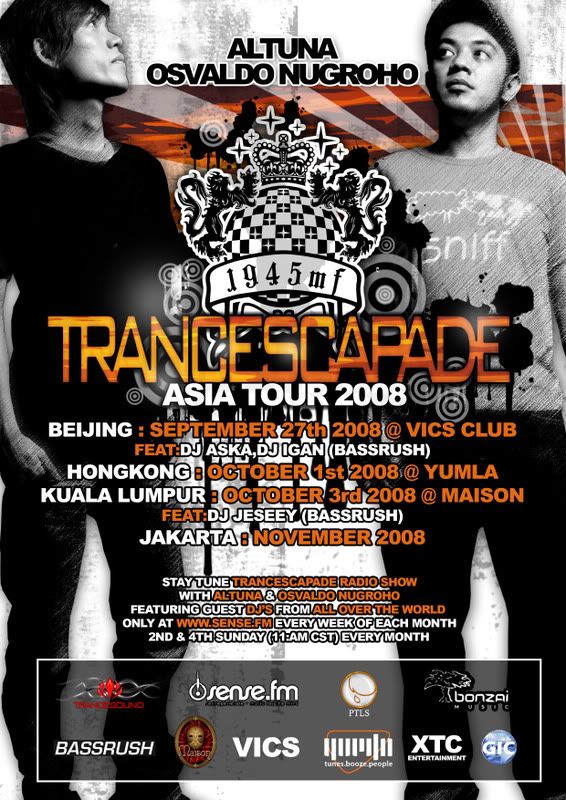 What:
Trancescapade Asia Tour 2008

Who:
Altuna and Osvaldo Nugroho

When:
3rd October 2008

Where:
Maison, Kuala Lumpur

Cover Charge:
Club charges applied

Again, sit down and relax in front of your computer. Log on to Sense.FM and check them out!
Support the music from our region. These guys are pretty good.

Adli Syahril says: October is another party month! Simian Mobile Disco, SpeedZone Tour 2008, Trancescapade and... wait for more updates from me! hehehe :P

The End