The Story Begins...

Hello everyone!
The year 2007 is going to an end.
Oh man, I don't think next year's event will be as great as this year because Visit Malaysia 2007 pon dah nak abis, kot!

Okay,
let me update you with the coming events.

1. Channel X by XPAX presents Dewa19 Malaysia Tour 2007 @ Various venues (15th-22nd December 2007)



There's no need of introduction for Dewa19. I'm very sure everybody has already know their songs (DUH!)
Here are the list of venues for the concert:

Stadium Likas @ Kota Kinabalu, Sabah - 15th December 2007 (Opening by Ella, Jinbara & Dewa-Dewi)
Stadium Perpaduan @ Kuching, Sarawak - 16th December 2007 Komtar-Geodesic Dome @ Pulau Pinang - 17th December 2007 Stadium Tertutup MBJB @ Johor Bahru, Johor - 18th December 2007 Stadium Negara @ Kuala Lumpur - 22nd December 2007 (Opening by Sheila Majid, Rabbani & Mulan Kwok)

The sitting plan for Stadium Negara is as shown below.




I would really love to go for this concert because they are the gods of rock in Indonesia. It's a great opportunity for everyone to attend this concert because they can rock you like hurricane! Unfortunately, I have to say "PASS" due to my family vacation. :(

2. DJ Aligator Rave Party @ PWTC Tun Razak Hall No. 1 (29th December 2007)



DJ Aligator is coming to Malaysia! the "Blow My Whistle Bitch" guy! Pre-sale is RM103 and doorsale price is RM123.

Personally, I think it's too pricey! There are still many event for the New Year Eve.

3. MidZone Countdown Party 2008 @ The Boulevard, Mid Valley (31st December 2007)


I guess that I'm up for this.
Hey, Stoneface & Terminal, and Matthew White are the headline DJs for this event. Stoneface & Terminal is coming to town, BABY! RM75 with 3 f&b per ticket. ;)

So, if anyone interested to come with me for this one, please... contact me! :)

4. H2O New Year Eve's Beach Blast @ Sunway Lagoon Beach Resort (31st December 2007)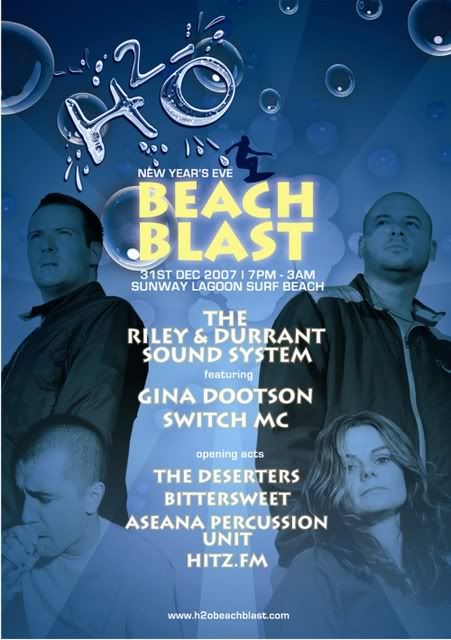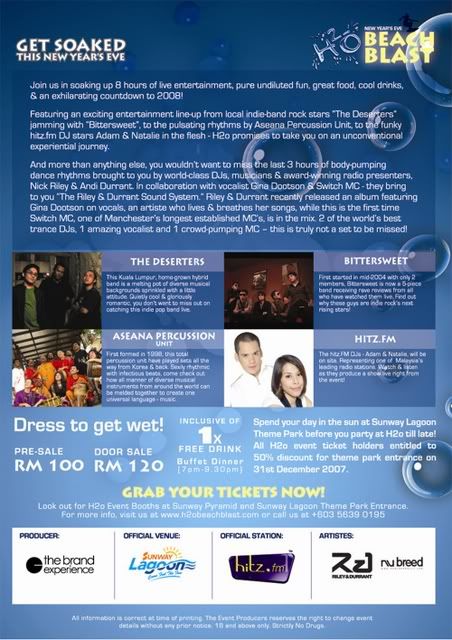 Nick Riley & Andi Durrant with Gina Dootson & Switch MC are the headlines alongside with Bittersweet & Deserters as their opening act. Pre-sale RM100 and Doorsale at RM120.

Hmm, good headline! Gina Dootson on vocals! I'm going to stick with MidZone Countdown as it has a better price & offer.

5. Just One More Party @ Laundry Bar, The Curve (31st December 2007)



Hey, if you are looking for something free, 3 different rooms and different genres which consists of Indie, Hip-Hop, Breakbeat, House & Electro, Laundry Bar is the right place. DJ Raysoo mentioned in his Myspace that he'll be spinning some decks OUTDOOR for this event. Other line-ups? Not sure. :P



So, have you made your decision yet?
As it's the end of Visit Malaysia 2007, I'm sure that all these events would be a BLAST!
Drop some comments if you have any information on any event which I didn't cover :)
Thank you.

The End

Dec 13, 2007
Labels: Dewa19, DJ Aligator, H2O beach blast, Laundry Bar, mid valley, MidZone Countdown 2008, new year eve, Sunway Lagoon, the curve, visit malaysia 2007