What?
Sunburst KL 2009 - International Music Festival
When?
21st March 2009
Where?
Bukit Kiara Equestrian Club
Who?
International:
N.E.R.D.
Russian Winters (Australia)
KORN (updated)
Erykah Badu (updated) - CANCELLED AT THE VERY LAST MINUTE!

Skye - ex-Morcheeba (updated)
Naturaly 7 (updated)

Local:
Butterfingers (minus Loque)
Hujan
Bunkface
Estranged
Estrella
Pesawat
They Will Kill Us All
The Otherside Orchestra
Joe Flizzow
Meet Uncle Hussein
Gerhana Ska Cinta
Dead Mushroom
Arabyrd
Aseana Percussion Unit
Twilight Actiongirl
Loops Collective
Cosmic Kitchen
Reza Salleh
Juwita Suwito
Projek Pistol
Regional:
Nidji (Indonesia)
Agrikulture (Indonesia)
Andra And The Backbone (Indonesia)
Sixx (Singapore)
Maliq & D'Essentials (Indonesia)
Twentyfirst Night (Indonesia)
MORE LINE-UP WILL BE ANNOUNCE IN LATER DATES
How?
Tickets are already available at Axcess counter.
RM143 (Early bird price until Feb 6th)
RM203 (Pre-sale)
Rm253 (Door price)
Online booking can be done through
Axcess
website.
Why?
For the second time in Kuala Lumpur, the grounds of Bukit Kiara Equestrian Club is about to pulsate with the beat of some of the biggest, most influential international names in music, playing side by side with regional superstars from Indonesia and home grown talent from Malaysia. This mishmash of Hip-Hop, Rock, Pop, Soul, Dance and Jazz's finest stars is about to entertain Malaysian and international music fans alike, spread out over 6 different stages.
The Sunburst signature Sun and Sky Stage will return as the main platform for the international headliners and established local acts, while a massive indoor marquee will house the Livesounds Stage and Tuborg Loud & Clear Stage, showcasing the best local and regional acts in a more cozy setting. The Speedzone Interactive Tour will feature Formula 1 and Moto GP simulators within a futuristic club feel environment with DJs pumping out tunes as you race along your favorite track. Last but not least, the Silent Disco Arena makes its first appearance at Sunburst with not a single speaker in sight as an intimate number of revelers groove to tunes by A-list DJs via the 300 pairs of wireless headphones.
This one day music festival, cramped into a 12-hour programme of continuous music and various activities and games is accessible to everyone for just RM200 per pre-sale ticket. Tickets are available at all Axcess Tickets outlets nationwide, online and through phone booking. The festival will be held at the Polo Pavilion, Bukit Kiara Equestrian Club, Kuala Lumpur, Malaysia. Doors will be open to music lovers, party-goers and even families starting at 2.00pm on March 21st 2009.
Event Layout: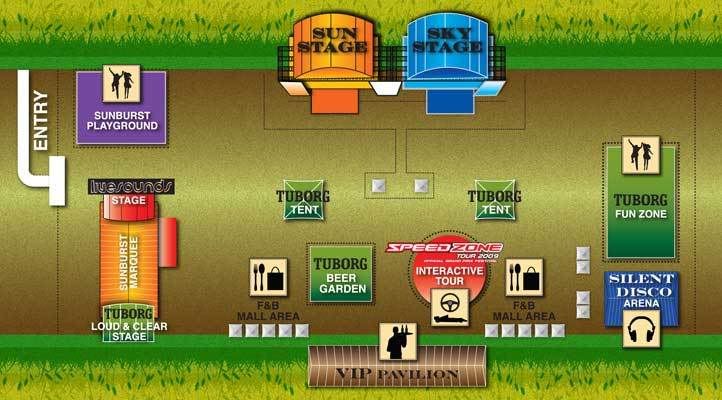 To those who are still holding on to their tickets, congratulations! Now we are on the right track! no more unclear picture of Sunburst 2009!
According to
KLue
's website, Coldplay will not be coming. Razman Razali, Managing Director of Pineapple Concerts explained that if they had booked Coldplay, they would be the only international act playing the show (eg they were too expensive). He goes on to say that while that may suit some festival-goers, that wasn't want he wanted for Sunburst. He wanted a festival that could cover most genres.
For more details, click
here
.
Join Sunburst on
Facebook
!
Info Source:
Sunburst
Photo Source:
Sunburst
Related Post:
ADVANCE WARNING: The Official Launch of Sunburst KL International Music Festival 2009
BLOG THING: Sunburst 2009 line-up coming soon?
AFTER PARTY: Sunburst KL Music Festival @ Kiara Equestrian Park (21/3/2009)


Adli Syahril says: I'm satisfied with the line-up!
The End