The Story Begins...

F1 season is back and this is the time where Malaysia is filled with parties, concerts and more parties! The official Grand Prix party will be held again in Genting with top DJ names in the bill. Looking forward for this one? Definitely do cuz Kyau & Albert are back to Malaysia.

Before I left you with the deets, please remember this: B.Y.O.B!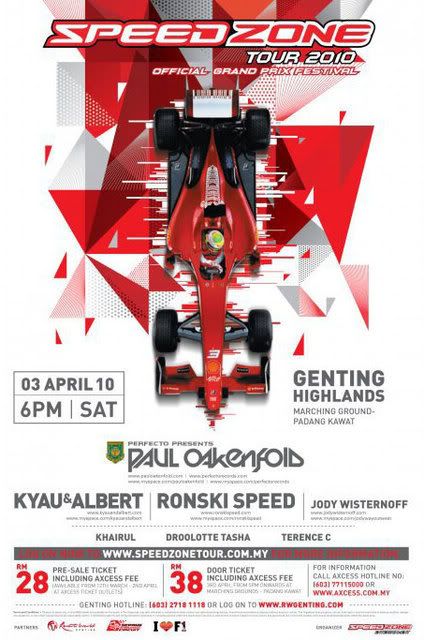 What?
Speedzone Tour 2010

When?
3rd April 2010

Where?
Padang Kawat (Marching Ground), Genting Highlands

Who?
Paul Oakenfold
Kyau & Albert
Ronski Speed
Jody Wisternoff
Terence C
Droolotte Tasha
Khairul

How?
Tickets can be purchased at Axcess counter
RM28 (pre-sale)
RM38 (doorsale)

Details at www.axcess.com.my

Why?
The speeding thrill of the F1 Grand Prix returns to Malaysia once again amidst the heat, the sweat and the throbbing heartbeats! The exhilaration of the Grand Prix party, will definitely top of your partying list of 2010.
Known for throwing some of the best dance parties in the nation, Speedzone Tour 2010 – Official Grand Prix party is back and will be rocking outoor at Padang Kawat at Genting Highlands on Saturday, 3rd April 2010! Party-goers can expect heart-thumping action from some of the biggest names in the dance music arena. A mish-mash of trance and techno beats will be droning out all other sounds as the lights go down, inevitably setting the perfect mood for a party scene that is definitely a sight to behold.

Now get this: A turn-out of 10,000 party-goers are expected to be dancing and partying the night away. And there's nothing more electrifying than watching renowned DJ Paul Oakenfold spin some of his innovative music on the dance floor. Back by popular demand, Oakenfold is returning for the second time to play an exclusive set for Speedzone with recently performing 13 shows with Madonna in front of 780,000 fans!
German duo Kyau and Albert are one of the most original DJs / producers in the modern day Electronic Dance Music circuit. Listed as number 37 in DJ Mag Top 100, the fantastic duo are set to deliver massive, cutting-edge sets behind the decks – simply an unforgettable experience!
Another unforgettable performer is Jody Wisternoff, one half of Way Out West whose influence and contribution to dance music cannot be overstated. He brings a solid mix of progressive house acts and solo nu disco offerings to the dance floor to match the best track for the best moment at the Grand Prix Party 2010!
Ronski Speed's numerous massive productions have gained him popularity in the dance music circuit. A talented DJ that has remix for some of the biggest names in the scene such as Armin van Buuren, Above & Beyond, ATB, Markus Schulz, Andy Moor and Lange were genuine club smashers.
Lastly, sexy, young lass, who at 26-years-old, was the winner of the Ibiza DJ Awards; Droolotte Tasha, a classically-trained pianist, liked being control of music and she quickly discovered her passion in the music of trance artistes the likes of Paul van Dyk and Ferry Corsten. Her smooth and sexy tunes will blend in well with the music mixture of the night alongside local hero Terrence C's sophisticated remixes. A well-known name in the local music scene, Terrence C has DJ-ed at The Backroom, Emporium Nouvo and Atmosphere, and currently resident at KL's premier club, Zouk.
For more info, log on to
www.speedzonetour.com
The End