The Story Begins... I'm in the House...



... with the mad man who runs Dim Mak Records and signed many other Electro acts such as MSTRKRFT, The Bloody Beetroots, Klaxons and Mustard Pimp. The genuine party rockstar is back to Kuala Lumpur for another super-duper sick beat! I'm in the house with Steve Aoki this May, yo!


Expect this...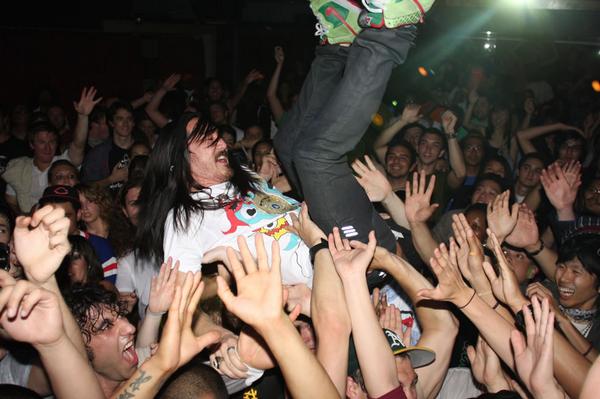 ... this...

Steve Aoki is a Californian entrepreneur, music producer-slash-DJ and a party rockstar who will rock your socks off! Also known as Kid Millionaire and teamed up with Blake Miller for his duo project called Weird Science, Steve Aoki will definitely drop huge bombs at Euphoria by Ministry of Sound this May 1st. It's time to headbang, mosh, crowd surf and expect lots of stage diving action... let's go bonkers!
Before I proceed with the details, let me show you this!
Now the deets, yo!
What?
EUPHORIA by Ministry of Sound presents STEVE AOKI
Where?
Euphoria by Ministry of Sound, Sunway
When?
1st May 2010, Saturday
Who?
STEVE AOKI!
(opening set by Nazkimo)
How?
RM60 + 1 house pouring drink
Steve Aoki Pre-Sale Tickets (RM60) will be available for sale starting Wednesday, 21st April 2010
Why?
Steve Aoki - Globetrotting, multiple award-winning celebrity mix master. Steve Aoki shows off his notorious brand of electro house music from L.A. on our shores this Labour Day. The chosen DJ and record producer for renowned artists and bands, Aoki spins up a stream of celebrated sounds 'live' at Ministry of Sound - EUPHORIA!
You will be daft if you missed it! See you hipsters on the dance floor!
Check out his Warp routine. :)
The End