The Story Begins...



Rock music enthusiast will soon be treated with an explosive onstage performance when chart-topping American rock act Deftones, one of the biggest underground bands in the world make their way onto Malaysian shores for their first ever concert in the country.

Deftones is set to rock at KL Live on the 14 February 2011, presented by Tune Talk in conjunction with Valentine's Day!

According to Tune Talk CEO Jason Lo;
"Tune Talk presents Deftones by popular demand. We pay attention to the wishes of music fans out there and we take pleasure in fulfilling their wishes to see more international acts here. One may wonder why Deftones on Valentine's Day? As a prepaid mobile service provider with a difference, we are out to offer something exceptional for all lovers this year. It's time to drop the cliche roses and chocolates and have a good time rocking instead.

And to all girls out there, a ticket to the Deftones concert will definitely make an excellent gift for your hard rocking boyfriends. You will definitely be loves forever!" Jason added witha smile.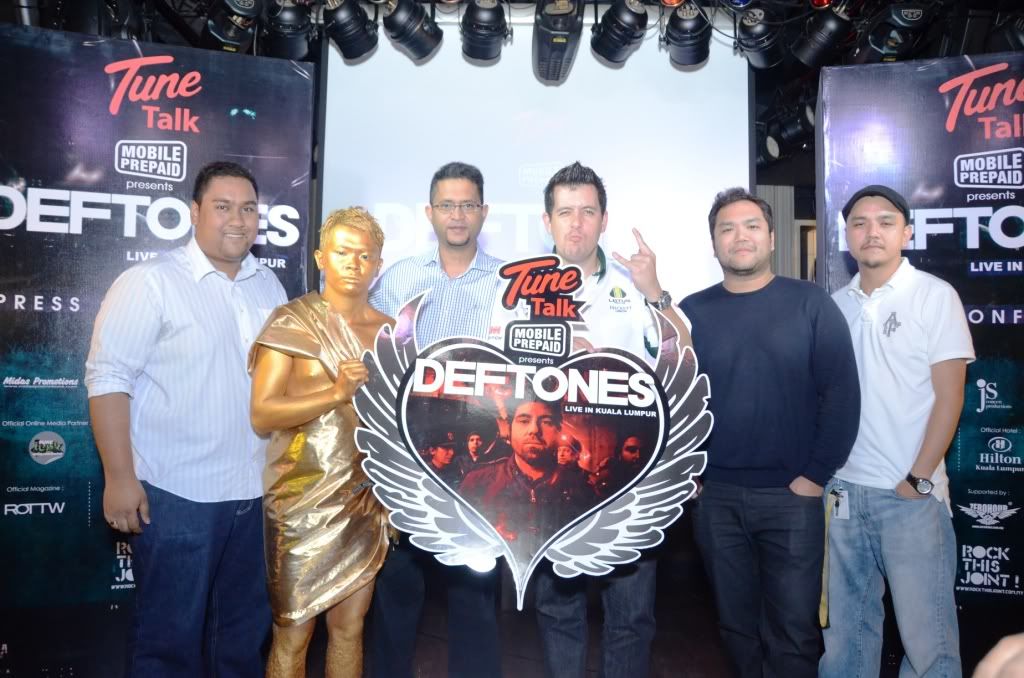 (L-R) Rashdan Harith (AirAsiaRedTix Marketing Manager), Cupid, Umapathi Sundram (Tune Talk Head Marketing), Jason Lo (Tune Talk CEO), Zahid Yon (Fat Boys CEO), Kelvin Sim (Tune Talk Dep Head Marketing) at the Deftones Press Conference
Tune Talk is giving away free tickets for the concert! Tune in to Hitz.FM or visit Tune Talk's Facebook page at www.facebook.com/tunetalk
Tickets priced at RM258 for Rock Zone free standing category, RM188 for upper tier free standing and RM98 for lower tier free standing are now available at AirAsia Red Tix (www.airasiaredtix.com), TicketPro (www.ticketpro.com.my) and over the counter at Rock Corner and TicketPro outlets.
Doors for the concert will open at 7pm and show starts at 8.30pm. More details available at www.rockthisjoint.com.my
The End