The Story Begins...



Asean Basketball League (ABL) and 2crank.com (a web based portal for independent and new musical talents) have teamed up to provide another platform for new and up and coming talents and artists. This collaboration was revealed at Artista, Tropicana City Mall yesterday at its media conference.

The CEO of AirAsia Asean Basketball League, Mr. Kuhan Foo concurred that this is also the mission of the Asean Basketball League to create opportunities for youth to showcase their talents on a regional platform to enable them to appeal to the 600 million population base in South East Asia.

The league which is in its 2nd year is sponsored by AirAsia and General Electric.

Starting on a modest scale 2crank will be providing new and upcoming talents to sing Negara Ku (Malaysia's National Anthem) before every home match. Already 7 artists have preformed since the start of the season in Oct 2010.

The AirAsia Asean Basketball League will help to promote 2crank's talent across the region via its official website and social media network (eg. Facebook, twitter etc.). It will also showcase some of the talent on their weekly highlight TV program that is shown across South East Asia via the ESPN network as well as local terrestrial TV stations in Malaysia, Indonesia and the Philippines. The ABL will also seek among the young talent the best singer or group to create a theme song for the ABL for the next season's campaign.

Apart from AirAsia Asean Basketball League's CSR programs to promote young and upcoming talents with 2crank, another initiative from the AirAsia Asean Basketball League is to bring in students from universities across ASEAN as interns to give them working experiences in a regional company. The ABL is also working with their sponsors AirAsia and GE to place students in these organisations as well to enable these bright young talents to have an edge when they come out to the working world. These students will go through a 2 month training program with the AirAsia Asean Basketball League which will give them an eye opener and experience working in a professional basketball league in areas such as sports marketing, television production and sports management.

For the finals 2crank will be providing an opportunity to a new band to perform live as one of the entertainers leading up to the finals.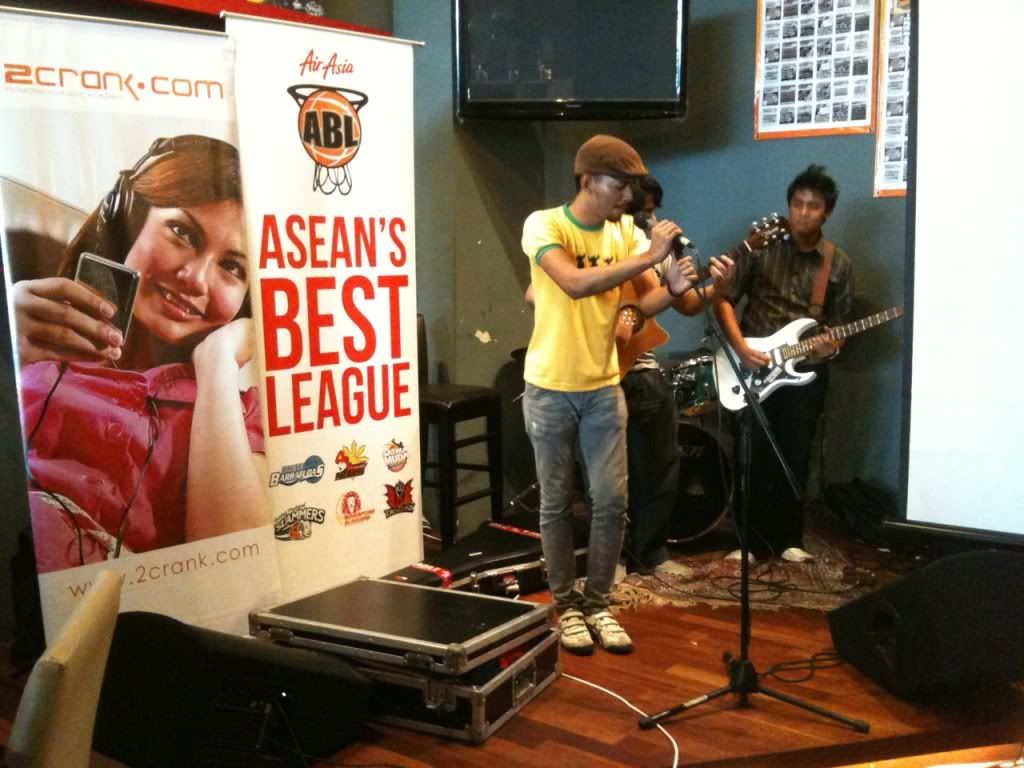 Azfar Alias performing at 2crank.com x ABL collaboration media conference
Up and coming artist who have performed at the AirAsia Asean Basketball League include Farah Asykin, Prema Yin and new talents :
- Faith Ding
- Angie Lym
- Ibtisem Khan
- Irsa Sahabuddin
- Nadia Aquila
- Ushera
Meanwhile En Hazmi Yaacob better known as Remmy in the indie circles says the partnership is a beginning of more things to come.
2crank.com established barely 1 year ago boasts over 5000 new members and over 800 original compositions. Remmy also added that while we cannot claim that all the songs meet the demanding standards of music listeners there are a cream of very good talent who show tremendous potential. The whole mission of 2crank is to allow these talents to be discovered and when they are discovered it becomes a benchmark for others.
2crank is also using the tie up to venture into the other regional countries who are part of the AirAsia Asean Basketball League namely Indonesia, and Philippine. 2crank will begin their Indonesia operations in early 2011.
The End