The Story Begins...


Taken from Juice Online

Another important date to mark in your party calender. This is the real deal. With touring the hottest party spots in Malaysia, Freedom is back again in FULL BLAST! Log in now and get special price to rocking with bigger and better line-up on this edition of FREEDOM - THE NEXT LEVEL!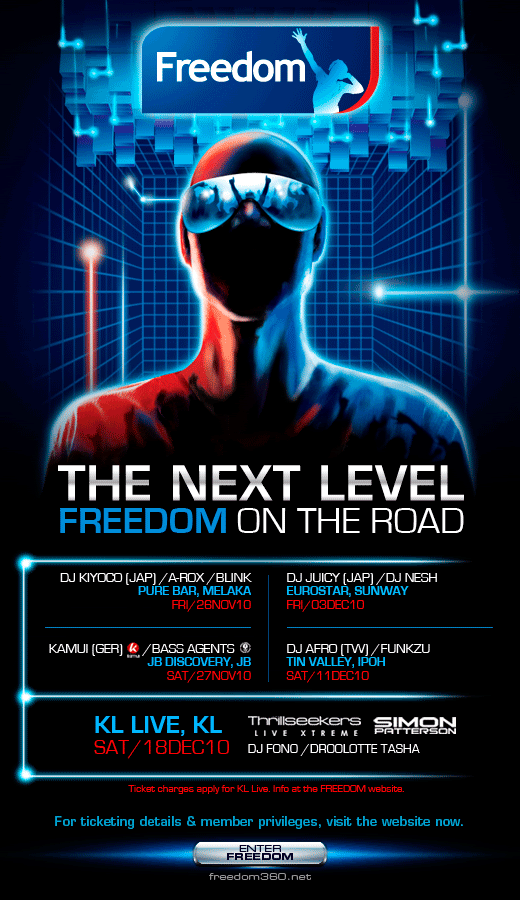 What?
Freedom - The Next Level

When? Where? Who?

Pure Bar, Melaka – 26 Nov
DJ Kiyoco (Jap)
A-Rox
Blink
DJ Juicy (Jap)
DJ Nesh
JB Discovery, Johor Bahru – 27 Nov
Kamui (Ger)
Bass Agent
Tin Valley, Ipoh – 11 Dec
DJ Afro (Tw)
Funkzu
ThrillSeekers
Simon Patterson
DJ Fono
Droolotte Tash
How?
For KL gig:
RM30 (member), RM85 (non-member)
For others, please check at www.freedom360.net
Why?
They are back and bad! Experience the next level of clubbing because once Freedom hits your town, you know that it is going to be insane. You gotta see it for yourself because what you read won't do any justice on how Freedom will be like. Release yourself and move to the sound of the future. This is definitely BIG!
You can never go wrong with the hardest sound of UK's renowned DJ Simon Patterson and Steve Helstrip a.k.a The Thrillseekers.
Wicked party coming your way. Save up and rev it up at Freedom - The Next Level.
More info, log on to www.freedom360.net
Video of the previous Freedom 360 at KL Live with Above & Beyond (credits to Efozy)
The End